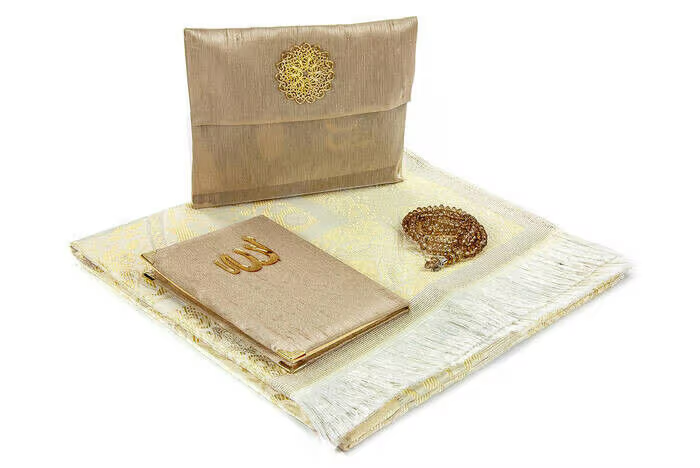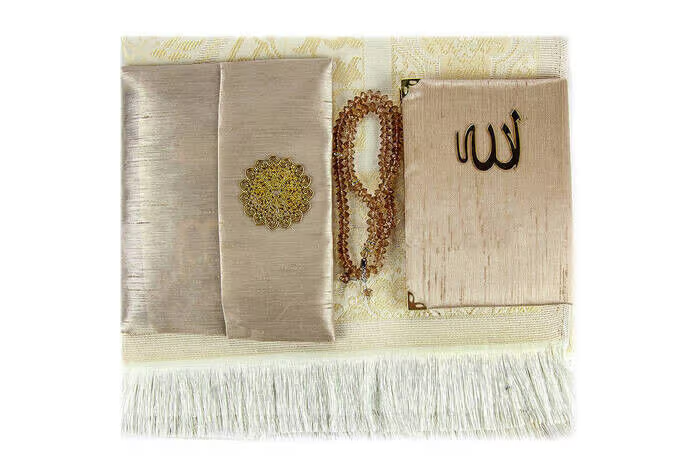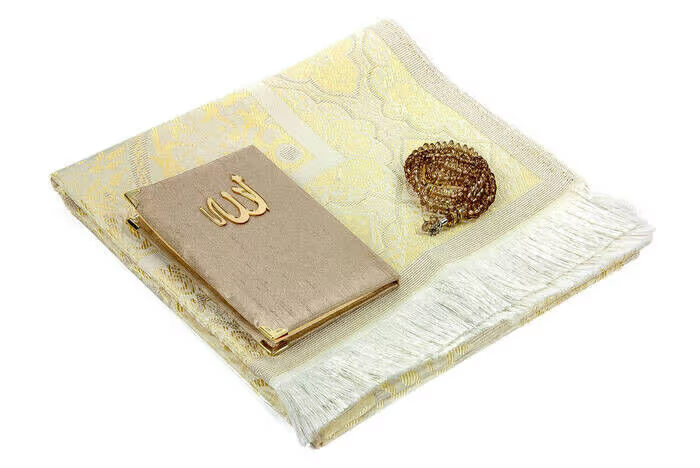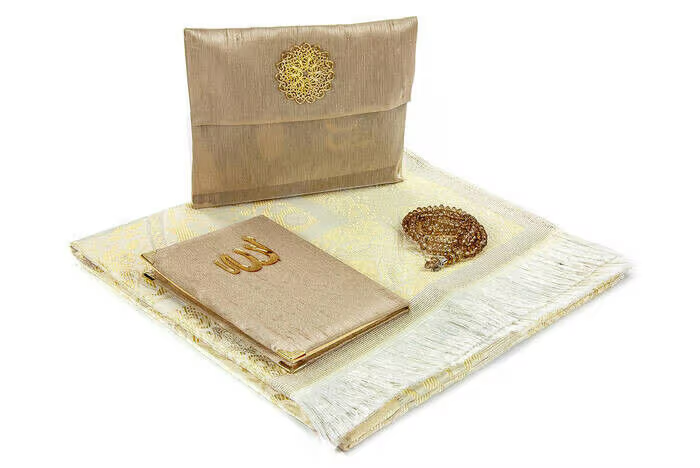 Prayer Rug Covered Set, Covered Yasin Surah From Quran, Prayer Rug And Rosary
8000000000002
100% Turkish Product

98% customer satisfaction rating

Delivery to shipping within 48 hrs

Only 9.90$ Shipping price for all orders.
The
Prayer Rug Covered Set
from Bazarturki is a truly unique and special Turkish Islamic gift that will bring blessings and joy to your loved ones. This set is designed to provide a complete package for your daily prayers, including a prayer rug, a rosary, and a covered Yasin Surah from the Quran.
The Yasin Surah is made from Slub Fabric and is covered with Allah's speech. It is a compact size of 12x16 cm, with 128 pages, and will serve as a reminder of the importance of reading and reflecting on the Quran. The prayer rug is made from luxurious Ottoman Taffeta and is sized at 117 x 67 cm, weighing in at 280 g / 9.8 oz. This rug is not only beautiful but also comfortable to use during your daily prayers.
The 99 pieces crystal look shiny rosary is the perfect complement to this set, providing a way to remember the Creator while performing your daily prayers. This rosary is a symbol of devotion and faith, and it will make a meaningful addition to your daily prayer routine. The patterned slub fabric pouch is cut from gold color plexiglass and is designed to store the prayer rug and Yasin Surah. With dimensions of 27.5 x 23 cm, it is the perfect size to carry with you on the go.
This set is truly a luxurious gift, with a total weight of 448 g / 15.8 oz. The special gift box is made from high-quality materials and is designed to protect the contents from damage. The set is a wonderful choice for those who appreciate traditional Ottoman design and are looking for a unique and special way to show their love for Allah.
Bazarturki is proud to offer this wonderful Turkish product for delivery to all parts of the world. Whether you are buying this set for yourself or as a gift for a loved one, it is sure to bring joy and blessings to the recipient.
Prayer Rug Features:

Weight: 280 g / 9.8 oz
Size: 117 x 67 cm
It is easy to carry and use due to its light and thin structure.
FOR SPECIAL OCCASIONS OR WHOLESALE ORDERS PLEASE CONTACT US ON OUR SUPPORT LINE.