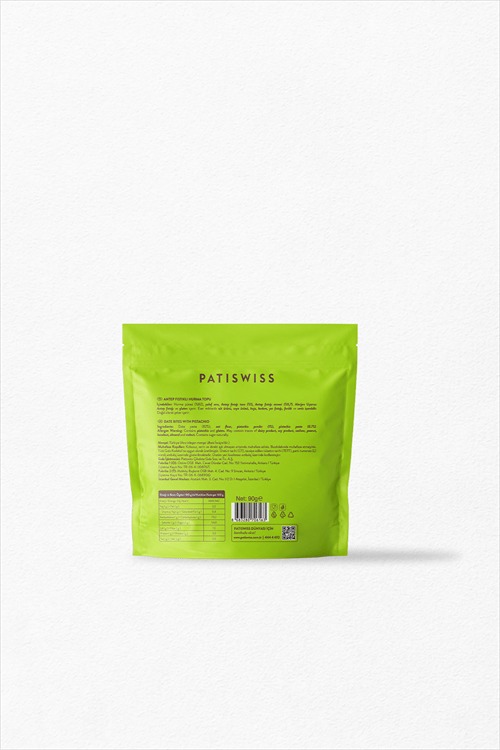 Patiswiss Baklava & Pistachio Date Balls, No Sugar Added 90 g / 3.17 oz
100% Turkish Product

98% customer satisfaction rating

Delivery to shipping within 48 hrs

Only 9.90$ Shipping price for all orders.
Indulge in guilt-free sweetness with our Patiswiss Baklava & Pistachio Date Balls, thoughtfully crafted with no added sugar. At Bazarturki.com, we're thrilled to offer you these delectable treats that blend the natural sweetness of dates with the richness of pistachios and the exquisite flavors of baklava.

Product Details:
Net Weight: 90 grams (3.17 ounces)
Ingredients: Date Puree (182%): Our date balls are primarily composed of luscious date puree, providing the perfect balance of sweetness. Oat Flour: Oat flour adds a wholesome texture and depth of flavor to our treats.
Antep Fats e Tou (X): This ingredient imparts a unique, savory character to the date balls.
Antep Fats esmasi (20.7%): These fats further enhance the authentic Antep flavor profile.

Allergen Warning:
Contains fat and gluten.
May contain traces of suturin, saya, kaja, almonds, ground fats, hazelnuts, and walnuts.
Naturally contains sugar.

Our Patiswiss Baklava & Pistachio Date Balls are a delightful fusion of tradition and innovation. With carefully selected finest ingredients to create a treat that embodies the essence of baklava while maintaining a health-conscious approach by avoiding added sugar.

These date balls offer a symphony of flavors and textures in every bite. The natural sweetness of the dates harmonizes with the nutty richness of pistachios, all while the Antep fats and oat flour provide a satisfying depth of taste. The result is a guilt-free indulgence that captures the essence of traditional baklava.

Perfect for satisfying your sweet cravings without the sugar rush, our date balls are a delightful treat for all occasions. Plus, we're excited to offer worldwide delivery through Bazarturki.com, ensuring that these delightful sweets are accessible to everyone, no matter where you are.

Experience the authentic flavors of baklava and pistachios in a healthier, no-sugar-added format. Don't miss out on this exquisite treat; order now at Bazarturki.com and let the world's flavors come to your doorstep with our global delivery service.