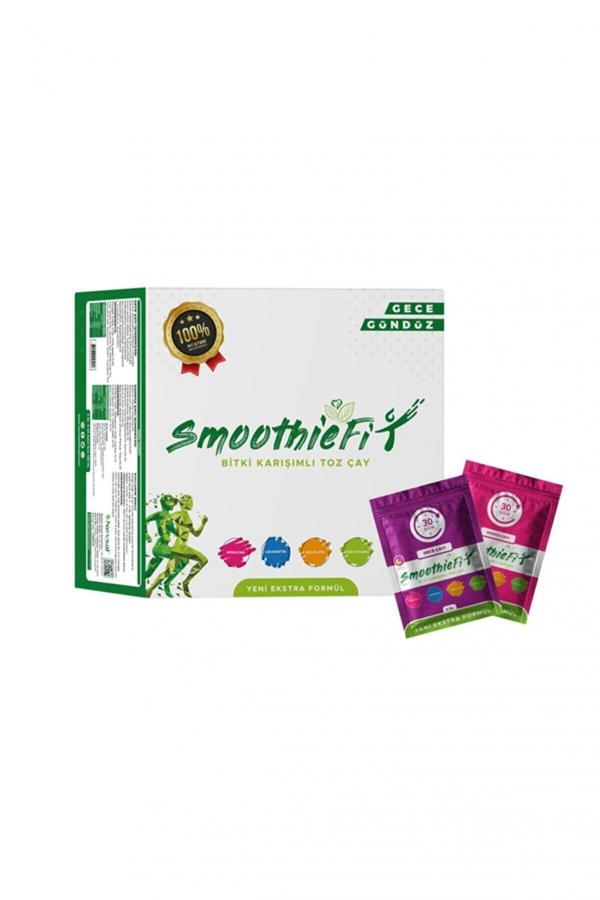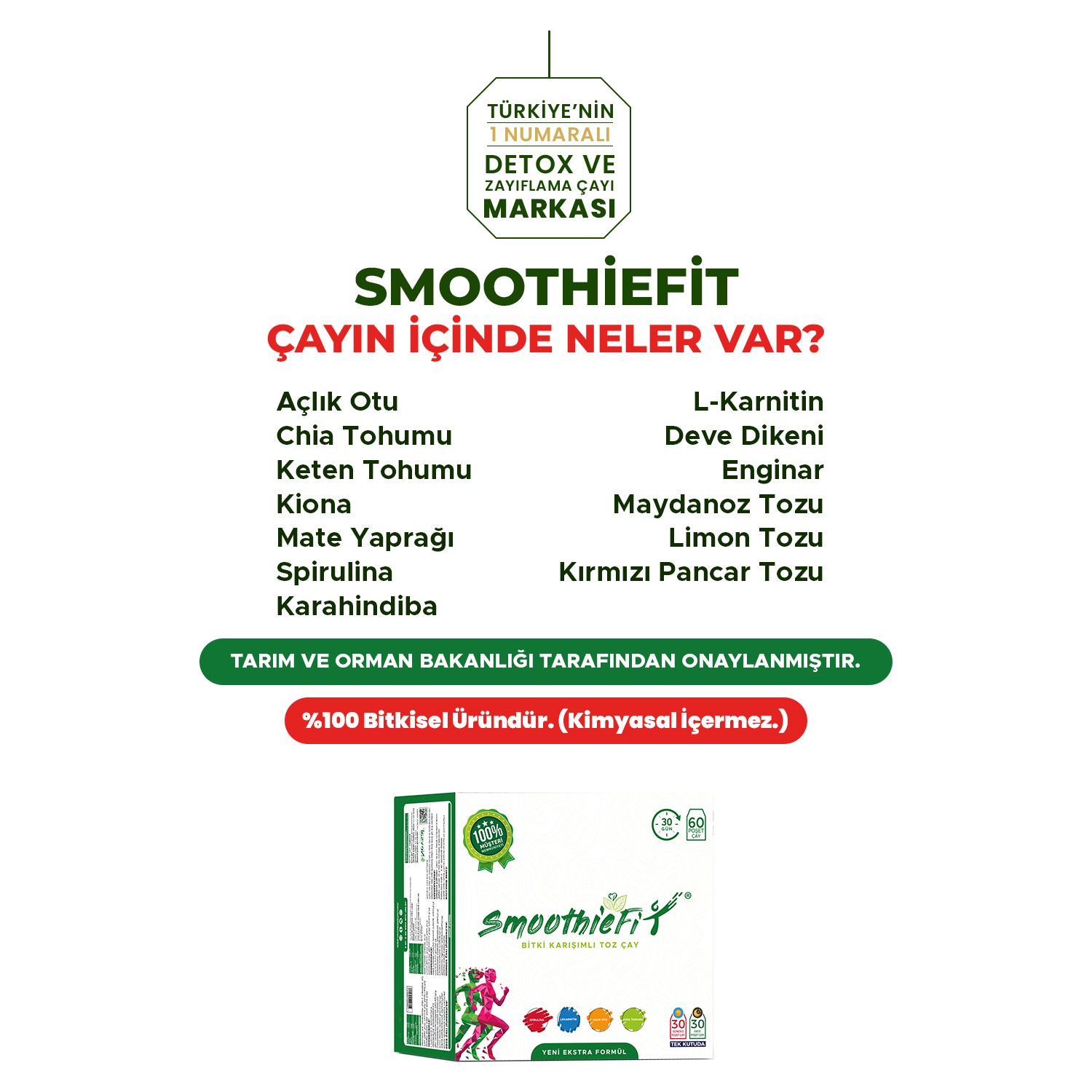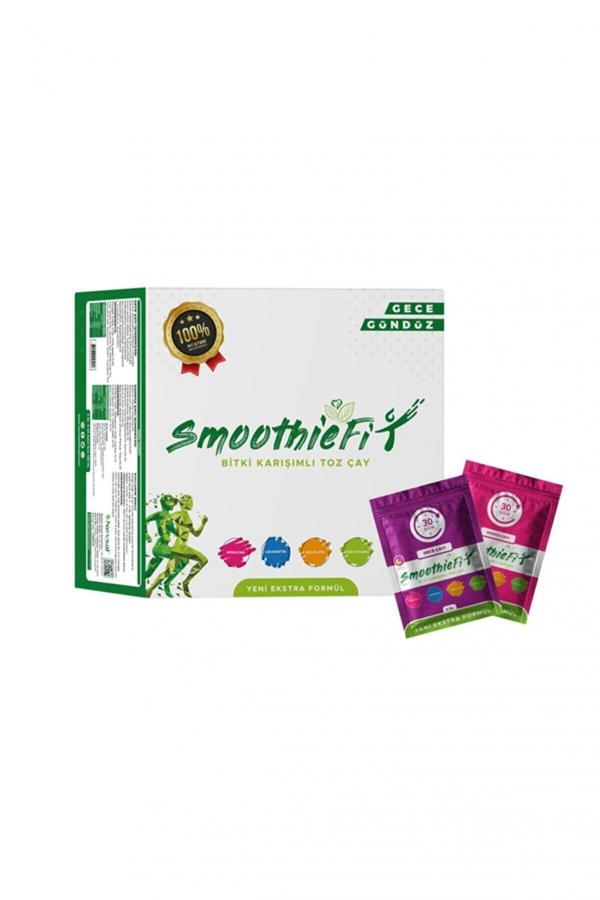 SmoothieFit Herbal Blended Detox Slimming Tea
100% Turkish Product

98% customer satisfaction rating

Delivery to shipping within 48 hrs

Only 9.90$ Shipping price for all orders.
Discover a transformative journey towards a healthier lifestyle with SmoothieFit Herbal Blended Detox Slimming Tea – a dynamic duo comprising the Day Tea and Night Tea, meticulously crafted to help you achieve your wellness goals.
Each package of SmoothieFit contains 60 sachets – a month's supply of both Day Tea and Night Tea.
SmoothieFit Daytime Tea:

Start your day on a rejuvenating note with our Daytime Tea, carefully formulated to invigorate your senses and prepare you for the day ahead. Crafted from a harmonious blend of all-natural ingredients, including Slybum (Thistle), Taraxacum officinale (Dandelion), Cynara scolymus (Artichoke), Petrosenium crispum (Parsley Powder), Citrus (Lemon Powder), and Beta Powder Rubrum (Red Beet Powder), this tea is your daily vitality boost.
Benefits of SmoothieFit Daytime Tea:
Metabolic Support: Encourage a healthy metabolism to aid your weight management journey.
Digestive Harmony: Embrace smoother digestion and bid farewell to discomfort.
Detoxification: Assist your body in purging impurities for a refreshed feeling.
Natural Energizer: Welcome each day with a natural burst of energy.
SmoothieFit Night Tea:
As the day draws to a close, experience the tranquility of our Night Tea. Crafted to aid relaxation and encourage rejuvenation, this tea combines the potent benefits of Senna alexandria mill (Hunger Grass), Salvia hispanica (Chia Seed), linum semen (Flaxseed), Chenepodium Quinoa (Kiona), Ilex paraguariensis (Mate Leaf), Spirulina, Dandelion, and L-Carnitine.
Benefits of SmoothieFit Night Tea:
Nighttime Detox: Support your body's natural detoxification process during restful nights.
Weight Management: Encourage healthy weight management as you sleep.
Digestive Ease: Embrace digestive comfort, aiding your body's natural nighttime rhythm.
Enhanced Relaxation: Unwind and relax with the soothing effects of carefully selected herbs.
Usage Instructions:

Day Tea:
Mix 1 sachet of SmoothieFit Daytime Tea with hot water 1 hour before or 2 hours after breakfast. Mix well and savor the revitalizing blend.
Night Tea:
Blend 1 sachet of SmoothieFit Night Tea into hot water 1 hour before or 2 hours after a meal. Customize your experience by adding yogurt, ayran, or kefir, and embrace a tranquil night's sleep.
Join the thousands who have already embraced the journey to wellness with SmoothieFit Herbal Blended Detox Slimming Tea. Crafted with care and 100% herbal, this product is devoid of harmful chemicals, promising you a natural path towards your goals.
Note:
Pregnant individuals and children under 9 years of age are advised not to use this product. Please store it in a cool and dry place.
SmoothieFit represents Turkish excellence in wellness. Bazarturki.com proudly offers worldwide delivery, ensuring everyone can enjoy the benefits of our Day and Night Tea.
Elevate your lifestyle with SmoothieFit – Now Available Exclusively from Bazarturki!