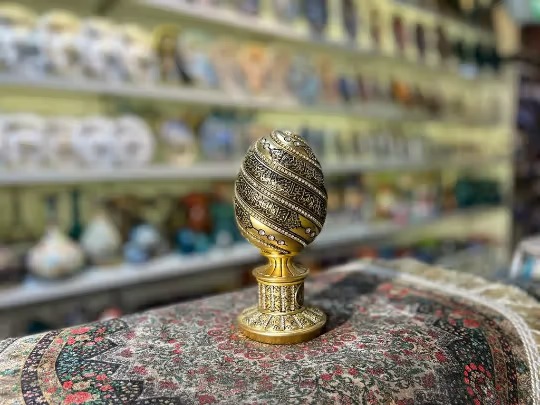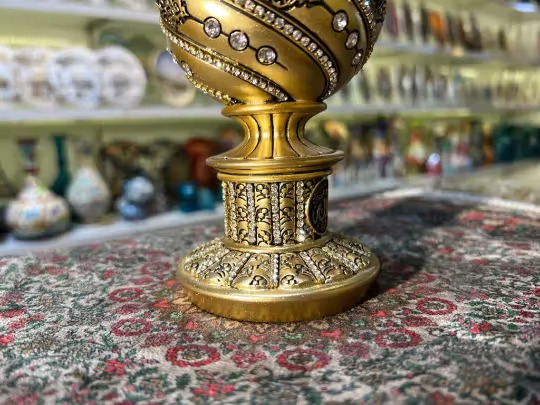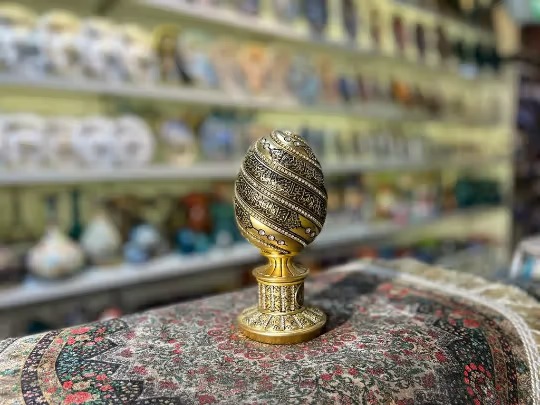 The Royal Egg (Ayat Al Kursi) Arabic Written Home Decoration
100% Turkish Product

98% customer satisfaction rating

Delivery to shipping within 48 hrs

Only 9.90$ Shipping price for all orders.
This Turkish Handmade Ottoman Egg (Ayat Al Kursi) with shiny stoned Crystals can be used as vintage on your shelves and also be as a gift to a new married couple to bless them, Our decorative handmade royal egg figure is a truly one-of-a-kind piece that is sure to add a touch of elegance and cultural flair to any home. Handcrafted by skilled Turkish craftsmen, this stunning piece is made with the utmost attention to detail and quality, ensuring that it will be a treasured addition to your home for years to come.

The royal egg figure is made from solid polyester, a durable and high-quality material that is perfect for this type of intricate and detailed artwork. The figure is expertly carved and painted by hand, with each tiny detail carefully crafted to create a lifelike and authentic representation of a royal egg.

One of the most unique and special features of this royal egg figure is the fact that it is engraved with beautiful Quranic words. These words are carefully inscribed into the surface of the figure, adding an extra layer of depth and meaning to this already stunning piece.

Standing nearly a foot tall, this royal egg figure makes a bold statement in any space. Its rich colors and intricate details make it a striking addition to any room, whether displayed on a shelf, mantle, or tabletop. It would make a perfect gift for a loved one, or a beautiful addition to your own home decor.

In addition to its stunning visual appeal, this royal egg figure is also a testament to the rich traditions and techniques of Turkish craftsmen. Each piece is handmade with love and care, ensuring that no two figures are exactly alike. When you purchase this royal egg figure, you are not only adding a beautiful piece to your home, but also supporting the centuries-old traditions and techniques of Turkish craftsmen.

Whether you are an avid collector of unique home decor or simply looking to add a touch of cultural flair to your home, this decorative handmade royal egg figure is sure to be a treasured addition. So don't wait – add this beautiful piece to your collection today and bring a little piece of Turkey into your home.

Small : 16x8 cm / 6.2x3.1 inch
Medium : 18x8.5 cm / 7x3.3 inch
Big : 23x10 cm / 9x3.9 inch

Crafted by the hands of talented Turkish craftsmen in Turkey.