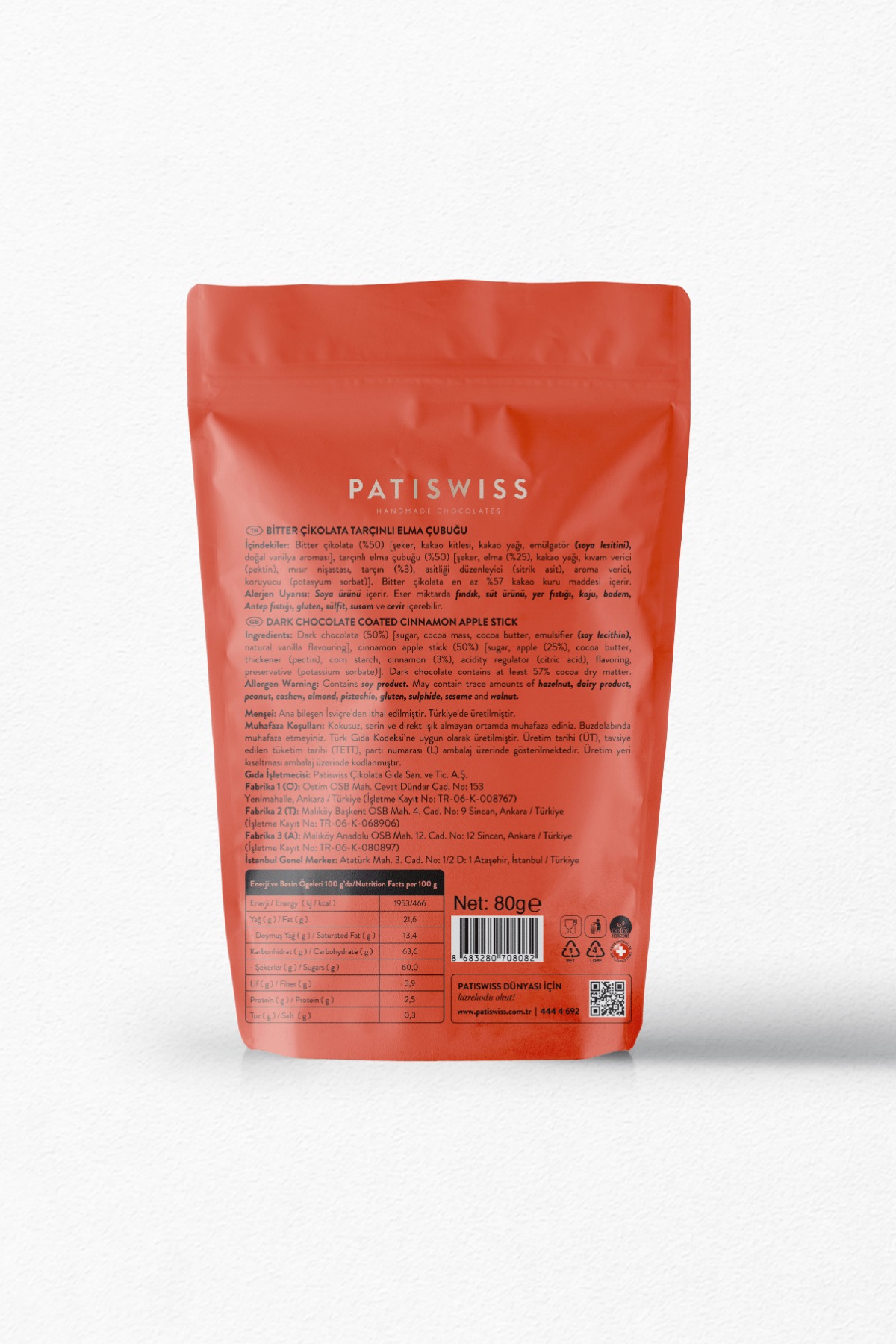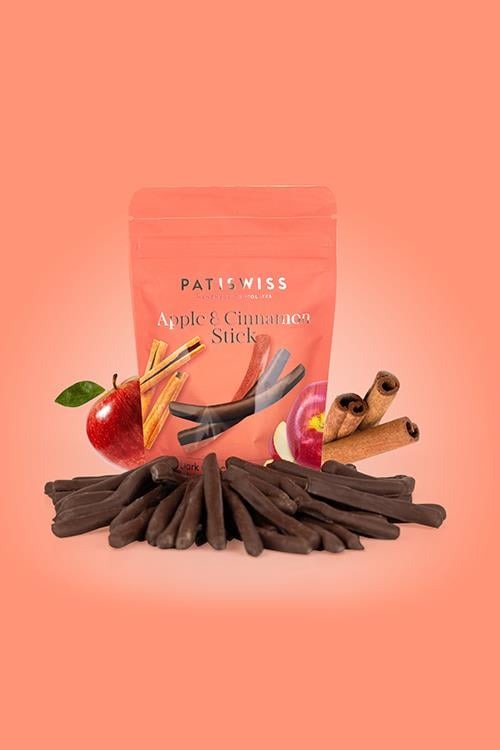 Patiswiss Dark Chocolate Coverd Apple & Cinnamon Sticks 80 g / 2.8 oz
100% Turkish Product

98% customer satisfaction rating

Delivery to shipping within 48 hrs

Only 9.90$ Shipping price for all orders.
Discover a delectable fusion of flavors with Patiswiss Dark Chocolate Covered Apple & Cinnamon Sticks. At Bazarturki, we're proud to bring you this exquisite treat, expertly crafted to combine the richness of dark chocolate with the comforting warmth of apple and cinnamon.

Product Details:
Net Weight: 80 grams (2.8 ounces)
Ingredients: Dark Chocolate (50%): Our premium dark chocolate is a symphony of sugar, cocoa mass, cocoa butter, and soy lecithin (an emulsifier) with a natural vanilla flavor. It contains a minimum of 57% cocoa solids.
Cinnamon Apple Stick (50%): These delightful sticks are a blend of sugar, apple (25%), cocoa butter, pectin (a thickener), corn starch, cinnamon (3%), citric acid (an acidity regulator), flavoring, and potassium sorbate (a preservative).

Allergen Warning:
Contains soy product.
May contain traces of hazelnuts, dairy products, peanuts, cashews, almonds, pistachios, gluten, sulphites, sesame, and walnuts.

Our Patiswiss Dark Chocolate Covered Apple & Cinnamon Sticks are a testament to the art of combining distinct flavors to create a harmonious blend. With each bite, you'll experience the deep, complex flavors of premium dark chocolate, the natural sweetness of apple, and the comforting warmth of cinnamon.

These sticks are perfect for indulgent snacking or as a delightful complement to your favorite hot beverage. They're also an ideal gift for anyone who appreciates the finer things in life. And the best part? We offer worldwide delivery through Bazarturki.com, so you can savor this gourmet treat no matter where you are.

Whether you're treating yourself or surprising a loved one, our Patiswiss Dark Chocolate Covered Apple & Cinnamon Sticks are sure to transport your taste buds to a world of indulgence. Don't miss out on this exquisite combination. Order now at Bazarturki.com and let the world's flavors come to your doorstep with our global delivery service.