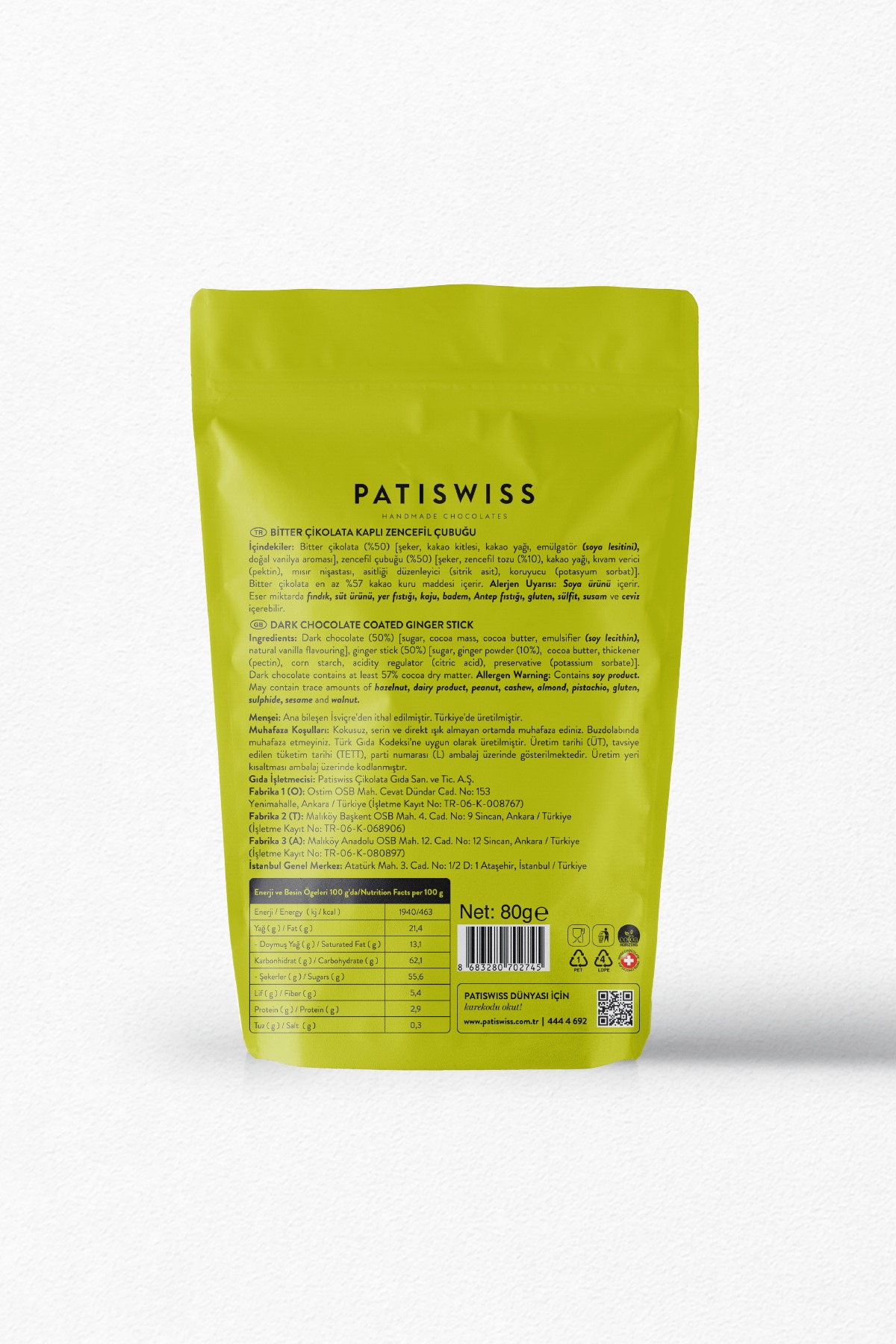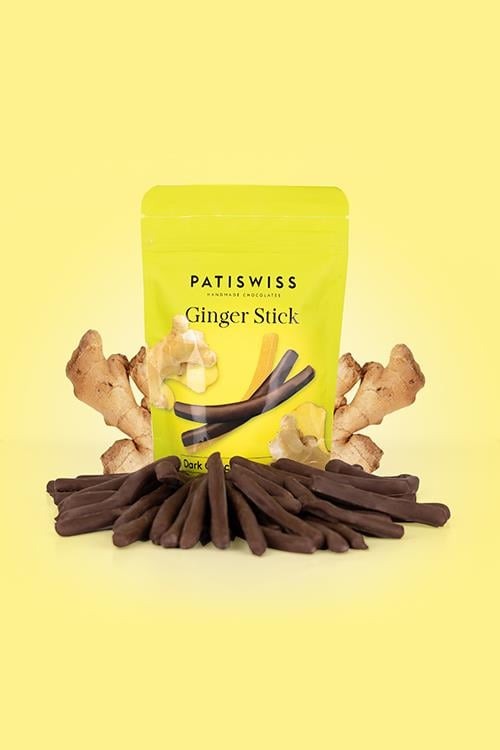 Patiswiss Dark Chocolate Coverd Ginger Sticks 80 g / 2.8 oz
100% Turkish Product

98% customer satisfaction rating

Delivery to shipping within 48 hrs

Only 9.90$ Shipping price for all orders.
Introducing our delectable Patiswiss Dark Chocolate Covered Ginger Sticks – a gourmet delight that perfectly combines the richness of dark chocolate with the spicy-sweet allure of ginger. With each bite, you'll experience an exquisite balance of flavors and textures that will tantalize your taste buds.

Product Details:
Net Weight: 80 grams (2.8 ounces)
Key Ingredients: Dark Chocolate (50%): Crafted from a blend of premium ingredients, our dark chocolate boasts a minimum of 57% cocoa solids. It's a harmonious blend of sugar, cocoa mass, cocoa butter, soy lecithin (an emulsifier), and natural vanilla flavor.
Ginger Stick (50%): These ginger sticks are a fusion of ginger powder (10%), sugar, cocoa butter, thickener (pectin), corn starch, acidity regulator (citric acid), and preservative (potassium sorbate).

Allergen Warning:
Contains soy product.
May contain traces of hazelnuts, dairy products, peanuts, cashews, almonds, pistachios, gluten, sulphites, sesame, and walnuts.

Our Patiswiss Dark Chocolate Covered Ginger Sticks are a true embodiment of indulgence and sophistication. The combination of velvety dark chocolate and the zesty, natural spiciness of ginger creates a symphony of flavors that will elevate your snacking experience.

Dark chocolate coating is carefully selected for its high cocoa content, ensuring a deep and intense chocolatey experience. Each ginger stick is enrobed in this luscious chocolate, creating a luxurious contrast between the smooth chocolate shell and the chewy, flavorful ginger center.

Whether you enjoy them on their own or as a delightful addition to your favorite dessert, our Patiswiss Dark Chocolate Covered Ginger Sticks are sure to satisfy your cravings for something sweet and spicy.

At Bazarturki, we're committed to bringing the world's flavors to your doorstep. We offer worldwide delivery, so you can enjoy our Patiswiss Dark Chocolate Covered Ginger Sticks no matter where you are.

Experience now the ultimate combination of dark chocolate luxury and ginger zest with Patiswiss Dark Chocolate Covered Ginger Sticks – your ticket to a world of delectable flavor sensations. Order yours today from Bazarturki.com and elevate your snacking!